Recently a new website Pinterest was launched and it's a huge time-suck but SO very inspirational! From their about section on their website, "Think of Pinterest as a virtual pinboard — a place where you can create collections of things you love and "follow" collections created by people with great taste." If you'd like an invite, shoot me an email and you can start your addiction!! If you are already a member, join me so I can follow your boards! The whole reason I'm even telling you about Pinterest is because I caught the DIY bug and decided to try my hand at modern "painted wallpaper". Several people had pinned different sites which lead me back to Emily at the Jones Design Company blog. You can see what she did in her office here and you can also download the template at the end of that post + see in the comment section other people's walls. The downloadable template isn't symmetrical so before you get started, fold it in half lengthwise and widthwise to trim off the excess.
Here is where I got the tip to enlarge the template which is ingenious! I think I ended up enlarging it close to 130% so I didn't have to do it as many times. Also, both Emily and Kathryn did double templates if you will. I tried that out at the beginning and decided it was way too much work. I really do love how it turned out. The wall is roughly 6.5×8.5′ which is the perfect size to do something like this! I couldn't imagine doing more but maybe if I had help I could have done more. I really really love how it turned out. Glidden paint was running a special in 2009 where you could get a pint of their paint for free and I chose this warm gold color. Not sure what I was thinking but hey I found a way to use it. Total cost for this project: less than $3.00!! Pint of paint (which I used about 3/4 of it with only one coat) was free, already had the painters tape, rollers and paintbrushes from other painting jobs. All I bought was a "sample" half-pint from Lowe's for the darker yellow/orange. Total time was roughly 5 hours + drying time from the nigh before. I also stopped for lunch, laundry (when you pay for laundry, you set a timer to get the most out of your dollar, so stopping at those times were very necessary!!), a few phone calls and the like.
Wall has been painted (I did that on Tuesday night – took less than 30 minutes) and I've started on the stencil in the bottom righthand corner (this is looking from our doorway into the apartment towards the bedrooms/bathroom, obviously that's the kitchen in the right-right of the photo)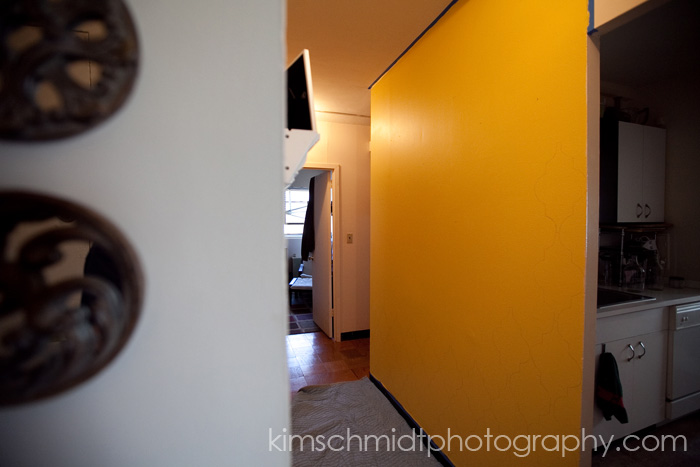 I had read on another blog to make sure to keep the stencil going the same way, so if you start from right to left, keep it that way or else it won't match up. Another tip I have, is to make sure to mark the stencil in someway so you know which is up/down and continue that throughout the process.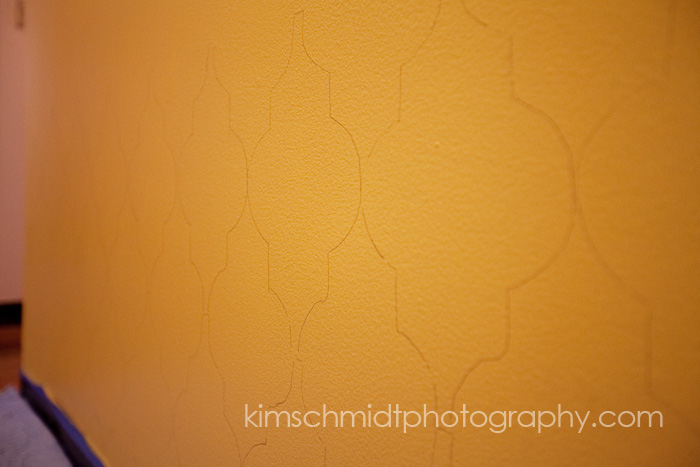 Trying to decide if I should go with gray or the yellow/orange + if I wanted to do the double thing.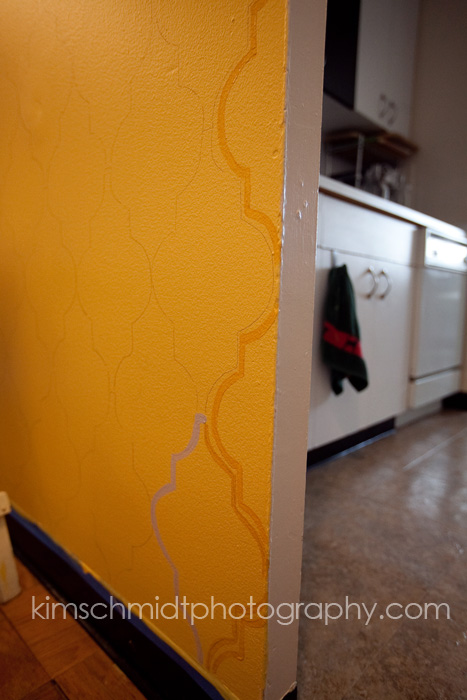 At this point I was almost finished (upper lefthand corner still needs to be painted).



It's complete with the photos back on the wall!!! (I know you are suppose to pull out the nails but I knew I'd be putting the frames back where I had them originally so they just got painted over too!). Looking back down the hall toward the living room/kitchen/door.





Tips I Learned:
*don't use a #2 mechanical pencil. I spent about half the time erasing back all of my pencil marks because they were just too dark. And then I had to do two coats of the darkish yellow/orange because I could still see the markings. UGH!
*make sure your stencil is symmetrical before you start (luckily I had read this before I started or else I would have been pissed!)
*continue to use the stencil the same way (so if it's not exactly symmetrical, at least the wall will look cohesive in a sense)
*don't worry about it not being perfect. when you step back, it looks great. rarely will someone get up close and say you did an awful job!
*have fun! put on some tunes and rock out!