I know that not everyone will find this post helpful and that's okay! These are little tidbits I've discovered recently and wanted to share with all of you. I am definitely not a professional on this matter and I always recommend you do your own research. Thanks for reading!!
In the past year, we got the Big Berkey water filtration system. One of the main reasons I wanted to get it is it removes more impurities than a standard filter AND it's stainless steel. We also have 2 Arsenic and Fluoride Water Filters for the system. No more Brita plastic container that left many impurities in our water which in turn went into our body! One of the main logistical problems we faced before getting it was were to keep it (I knew it wouldn't fit on our counters because we have no more room there!!) and how to keep the water cool. As you can see in the photo, its tall and sits on this really cool corner unit we picked up at a going out of business furniture store in Nashville (it's original purpose was to be used for the leaves of a circular dining table – I believe we got it for less than $70!). Side note: I had no idea how much this piece would be save us over the years – it's the only thing that will hold our huge dining plates and we use it as a pantry of sorts too! I also have been stocking up on these, these (which are perfect for entertaining!), and most importantly these (yes they are all glass!!!). We usually have three filled with water and one with iced tea in the refrigerator. Not only is the Big Berkey amazing, they also have incredible customer service. Both of the filters stopped working recently (it's really cool – they have a red food coloring test you can do to determine if it's working properly, check out their website!!), I gave them a call and within the week we had new filters. Cannot say enough great things about the company!!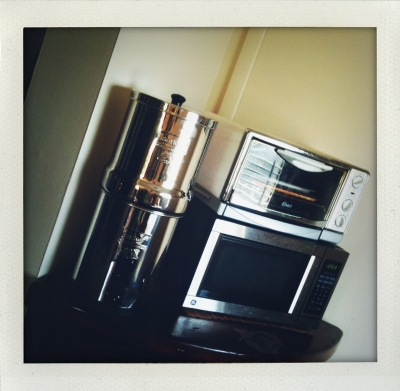 We are slowly removing all plastic items out of our home (storage containers, dishes, cups, shower liner, everything!). Anthony is having a hard time giving up some items so I keep letting him use them while I use all glass. It can get expensive but I've done some thrift shopping and I've been building over the past year or so. If you are interested in changing the way you live, do it one step at a time. There is no reason to break the bank and I advise you to shop around (either online or at thrift/antique stores!).
A Guide to Green Housekeeping has singularly changed the way we live. I have removed all the chemical toxins in our apartment and now have a huge supply of white distilled vinegar, baking soda, lemons and essential oils in our home. Not only are the photos beautiful in the book, it really is helpful to have all the recipes to change how you clean in one spot (I used to google different things but I now know how to remove rust stains from kitchen utensils, and to rid ourselves of cockroaches with an easy fix of water and soap!). You can also buy green products at places like Whole Foods (Ecover and Seventh Generation are two favs) but at this time I feel like spending $10 for vinegar and baking soda that do the same job is just fine with me!
BATHROOM
Culligan Showerhead – filtrates against sulfur, chlorine, and scale. Our bodies absorb more chlorine while showering than drinking a glass of water. If you already have a filtration system in your home, then you probably wouldn't need this, but we currently live in an apartment that is over 50 years old and this is the only thing that will work for us right now.
KITCHEN
I've already mentioned the glass decanters for our water and iced tea. We also have a stash of drinking glasses from Pottery Barn (all from our wedding) and have slowly been adding other smaller glasses from thrift stores. We had collected lots of different plastic cups from job fairs, basketball games, and restaurants. Purging them has been a task in itself as this is one of those areas Anthony is clinging too for dear life! Until I find all the "perfect" cups, we will have some plastic in our home. Every plate is ceramic and our bowls are too! I am still building up our storage containers, we are about 30% there! Still looking for alternatives to baggies for frozen soups/salsas/spaghetti sauce.
I'm a little embarrassed to mention it but I've ADDED to our Klean Kanteen collection. We have one of the insulated coffee mug ones, two 40 oz. (perfect for when I'm teaching ZUMBA!), two 27 oz. and two 18 oz. I love the fact that they are stainless steel, BPA-free and great for the environment. If you are in the market for some, check out L.L. Bean. They have some on sale!
Although we still have Teflon nonstick Calphalon pots and pans in our home, over the next year, I'm hoping to get stainless steel. If you are unaware, Teflon on your pots, pans, anything that is exposed to heat and your food, is bad. BAD BAD BAD BAD!!!!!!! Although the companies will claim it doesn't leech into our food, you are better off having using stainless steel, cooper, stoneware or cast iron.
I have switched us over to using Ecover and Seventh Generation dish-washing detergent, liquid dish soap and laundry detergent. Even though both of these brands are organic, that doesn't mean that are more expensive than the brands you are using currently. Target has sales on Seventh Generation stuff all the time and for the peace of mind it's worth switching!
RANDOM
We have those smart strip power strips in every room of our home to reduce phantom electricity – it will turn off all appliances when not in use. You can now get these at Target (I haven't tried anywhere else, but when I first got some I had to do it online as most retailers didn't have them yet!)
Live plants are in our home to help with carbon dioxide levels – and it brings me joy to see plants I've kept alive for two years still thriving even during the winter months!
Essential oils: if you haven't discovered these beauties, you need to get some! I've been highly sensitive to smells since I can remember (walking through the cologne or perfume area of a retail store gives me a headache almost immediately) but inhaling these oils won't! I was in Whole Foods the other day and walked away calmed and relaxed. The link below to Abundant Health has great info on essential oils. You can add them to your laundry, your cleaning materials, get a reed diffuser and make your home smell good.
We are participating in a CSA again this year – to find out about farms in your area visit Local Harvest. You can greatly impact your life by shopping and buying locally!
This list is just a tiny sampling of what is out on the web. I have found several of them by doing a search on something as simple as "non-toxic glass cleaner".
Petite Planet for the mommas out there. Their slogan is "baby steps toward changing the world". Brilliant!
Green Your Decor – being green doesn't mean drab anymore!!
Walk Slowly Live Wildly Blog (mad props that they make their own toilet paper!!)
LifeKind – organic mattresses, bedding, and the like
Abundant Health – great resource on essential oils
Eco Safety Products – find eco-friendly paints and other household items
The Natural Step
Better World Shopper – find out what companies are doing their part on being green and which aren't
Mod Green Pod – lots of gorgeous organic fabrics
Eco Chick – blog for hip, environmentally savvy young women,
Obviously this is a lot of information and most of my readers may not be interested in this at all. I do not claim to be a know-it-all on this topic and please do your own research. If one person takes something away from this post, I will feel it was worth it! Thanks for reading!