When my mom was in town last weekend, we got some gorgeous flowers at Trader Joe's. They are Christmas colors and I felt it was appropriate to put them in front of our Christmas tree. I must say that I'm totally in love with the two lenses I purchased while in NYC last Friday. They produce that gorgeous bokeh that you see behind the flowers. Yum-o!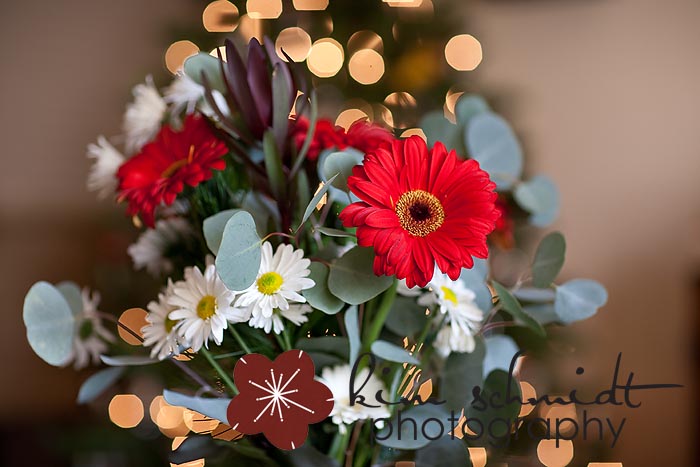 I was adventurous last week and made homemade red velvet cupcakes. The frosting I ended up using was a complete wash, so I gave them another try this week. I did a slight variation on her cream cheese frosting – and I'm proud to say this was my first successful attempt at homemade frosting/icing.

Red Velvet Cupcakes – from Apple A Day – originally from Cake Man Raven – I got 24 cupcakes
2 1/2 c. cake flour
1 1/2 c. sugar
1 tsp. baking soda
1 TBSP cocoa powder
1 tsp. salt
2 eggs
1 1/2 c. vegetable oil
1 c. buttermilk
2 TBSP (1 oz.) red food coloring
1 tsp. vanilla extract
1 tsp. white distilled vinegar
Preheat oven to 350°.
Sift together flour, sugar, baking soda, cocoa, and salt into a medium bowl.
Beat eggs, oil, buttermilk, food coloring, vanilla, and vinegar in a large bowl with an electric mixer until well combined. Add dry ingredients and beat until smooth, about 2 minutes.
Divide batter evenly between 3 greased and floured 8″ round cake pans (or a lined cupcake pan).
Bake cakes, rotating halfway through, until a toothpick inserted in the center of each cake comes out clean, 25–30 minutes. Let cakes cool 5 minutes, then invert each onto a plate, then invert again onto a cooling rack. Let cakes cool completely.
Sugar Cream cheese frosting – adapted from Joy the Baker
3/4 cups butter, softened
4oz cream cheese, softened
1/8 cup sugar
1/2 teaspoon vanilla extract
pinch of salt
2-4 cups powdered sugar
1-3 tablespoons milk
depending on desired consistency
Cream the cream cheese in an electric mixer for 1 minute. Scrape down the bowl and add the butter, beating for 1-2 minutes, or until incorporated. Be sure that the two are at room temperature. Cold cream cheese or butter can make your frosting lumpy.
Add the sugar, pinch of salt and vanilla extract, and beat until incorporated.
Turn off mixer and add 2 cups of powdered sugar. Turn the mixer on a low speed so the sugar doesn't fly out of the bowl. Slowly add more sugar alternately with the milk until you reach your desired consistency.