I haven't been around much lately – its been a wild month.  I'm working two jobs on top of running this business and we've even managed to travel.  I *think* I'm finally getting caught up.  Last weekend, we flew back to Oklahoma to surprise Anthony's great friend Cliff.  His wife and I had been scheming this for months now.  Cliff came home from almost a year's duty in Iraq and Angela wanted to throw a party with all his buddies from high school.  They are a tight nit group still 7 years later.  Anthony had the privilege of keeping Cliff occupied Saturday morning to allow Angela time to get the food prepared.  Somehow Cliff was completely surprised when he walked up and saw everyone in his house.  Here is a one of all the boys minus one who left early to get to work.
From left to right, Jathan, Creede, Jared, Anthony, Cliff, Justin and Quentin.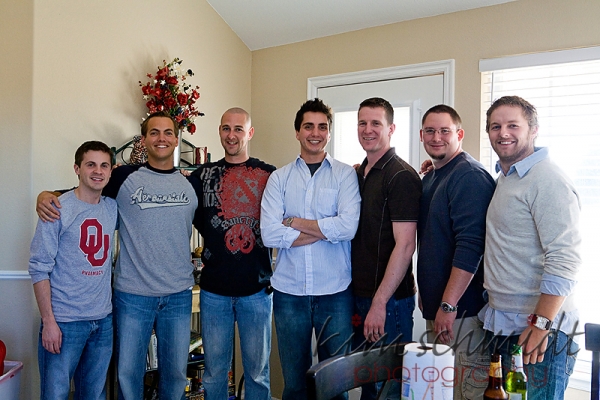 Being back in Oklahoma made me really homesick. It was such a short trip (we arrived 4pm Friday and our flight left close to 5pm on Sunday) and we aren't going back for Thanksgiving. Thankfully we'll be back for a few weeks in December and have time to spend with family.
This is definitely not the greatest picture but I like the little sun flare.  I had just woken up and I knew I had a very short time period to get this.  Literally one minute later I could no longer see the sun.